Return
September 07, 2022
Blog
#Swellness Recipes: Back in the Kitchen with Chef Mira Evnine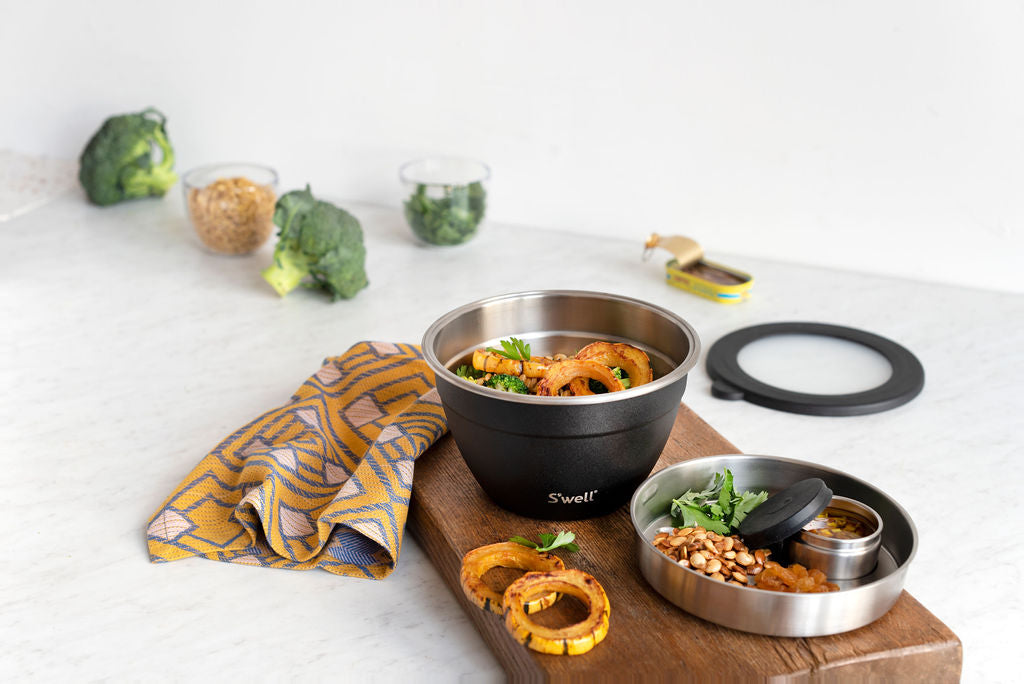 #Swellness and meal prep season has us so inspired by new and exciting recipes. One thing we're particularly excited about is embracing recipes that use in-season ingredients during these cold winter months. We're talking broccoli, grapefruit, squash, kale, turnips and more! Shopping for in-season fruits and veggies is not just a fad -- these produce items grow best in these temperatures, yielding delicious crops (and ending up more affordable at the grocery store too!). 
This week, as we were inspired by seasonal produce, we met up again with Chef Mira Evnine to see what she could cook up for us. Needless to say, we have our new favorite recipe perfect for our Salad Bowl Kit: Chef Mira Evnine's Kamut and Seared Broccoli Salad. 
"This is a variation of a salad I started making when I was working in Italy last year. Like many of my favorite combinations, it came out of necessity – I was cleaning out the fridge. Either way this grain salad is infinitely flexible. If you don't have kamut, but you have wheat berries or otherwise, use those. If you are prepping ingredients for this 'recipe' anew, prep extra – either you'll make this salad again or find your own inspiration in needing to use up ingredients in the fridge." - Chef Mira Evnine
Check out Chef Mira Evnine's Kamut and Seared Broccoli Salad
Ingredients:
Delicata squash, reserving seeds for roasting and garnish/snacking on

2ish cups broccoli florets roughly chopped to small bite-size pieces

2 to 3 garlic cloves, sliced

2 to 3 fillets packed anchovy

Pinch chile flake

1ish cup cooked kamut, wheat berries or other hearty grain (made from about ½ cup dry grain)

1 cup pinched parsley leaves

Olive oil 

½ shallot, minced

2 tablespoons Sherry or red-wine vinegar

Golden Raisins

Peeled parmesan curls

Salt and pepper to taste
Directions:
Preheat the oven to 400/425F. Cut the delicata squash into finger-width sliced rounds. Using a spoon and your fingers, remove the seeds from the rounds but don't throw them away. Clean the seeds from the pumpkin floss – rinsing them in a sieve is nice but certainly not necessary, as this is a rustic salad.

Toss the pumpkin with some olive oil, salt and pepper on a sheet pan. On the same sheet pan, but grouped separately (as they are likely to cook faster than the squash and you may want to remove them before the squash is done cooking), toss the seeds with a bit of oil, salt and pepper too, and roast everything for 20ish minutes. You want the delicata cooked through and browned; fork tender but not falling apart. The seeds should be nicely browned, too. Remove from the oven and let cool.

Heat about 2 tablespoons of olive oil in a large skillet over medium heat. When the oil begins to ripple slightly, add a clove or two of sliced garlic, two to three fillets of anchovy, and a pinch of chili flake. Using your spoon, break up the anchovy and help it dissolve into the oil; move the garlic around so it might brown but not burn. Raise the heat to high and add your broccoli florets, season with salt and pepper, then let the florets sit and get some color, only stirring every so often until the broccoli bits have some sear on them.

To the pan, add the kamut grain (or whatever grain you are using) and toss with the broccoli. Turn off the heat and season to taste. Let cool.

Meanwhile make the salad dressing. In a small bowl, bathe the minced shallots sherry vinegar and a pinch or two of salt. Let sit for a few minutes, allowing the shallot to mellow. Whisk in 5 to 6 tablespoons of olive oil. Taste and adjust seasoning.

To assemble, toss the cooled broccoli and grain with the parsley leaves. Dress to taste with the salad dressing. Top the salad with delicata squash and pumpkin seed. Toss in a small handful of golden raisins and some curls of peeled parmesan.