Return
September 07, 2022
Blog
Cook Up Some Curry Coconut Chips with Chef Mira Evnine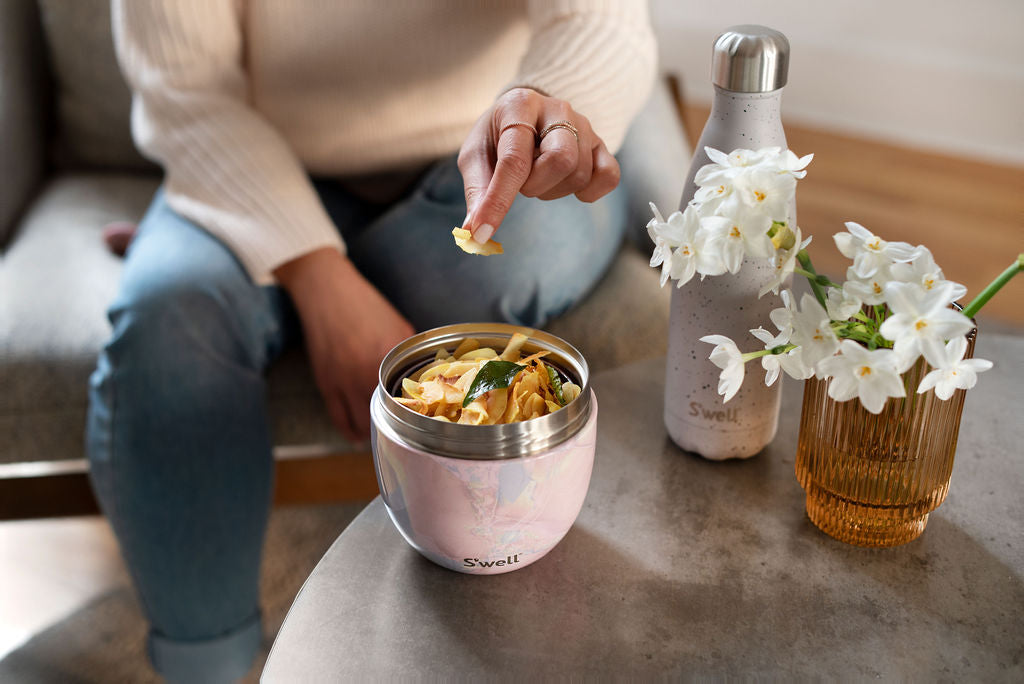 There's no better way to ring in the New Year than with some good old-fashioned meal prep. The days of boring chicken and rice are long gone, and S'well is cooking up delicious snacks and meals with our friend and chef Mira Evnine. 
"These coconut chips are a great snack year round – the variations and flavor combinations are endless! Eat them like chips, sprinkle them in a salad or garnish your next rice dish with them. This recipe calls for curry leaf which can be found and many Indian grocers. If you can't find fresh, dried will do. And if you can't find those, don't worry; skip them all together or riff on the flavor profile."
Check out the recipe below for Mira Evnine's Curry Coconut Chips!
Ingredients:
2 cups coconut chips

2 teaspoon coconut oil, heated briefly if solid 

1 teaspoon water

1 stem curry leaf – about 8 leaves (if you can find them)

2 teaspoon garam masala or vadouvan spice mix or 'curry powder' from the spice section

½ teaspoon salt
Directions:
Preheat the oven to 350F. Ready a baking sheet and set aside.

In a medium bowl, combine the coconut chips, coconut oil, water curry leaves and toss until coconut chips are somewhat moistened. Add spice blend and salad, toss to evenly distribute.

Taste and adjust seasoning as needed.

Spread on the readied baking sheet and bake for about 10 to 12 minutes, tossing intermittently until the chips have a golden toast to them. Let them cool completely before packing up in an airtight container.